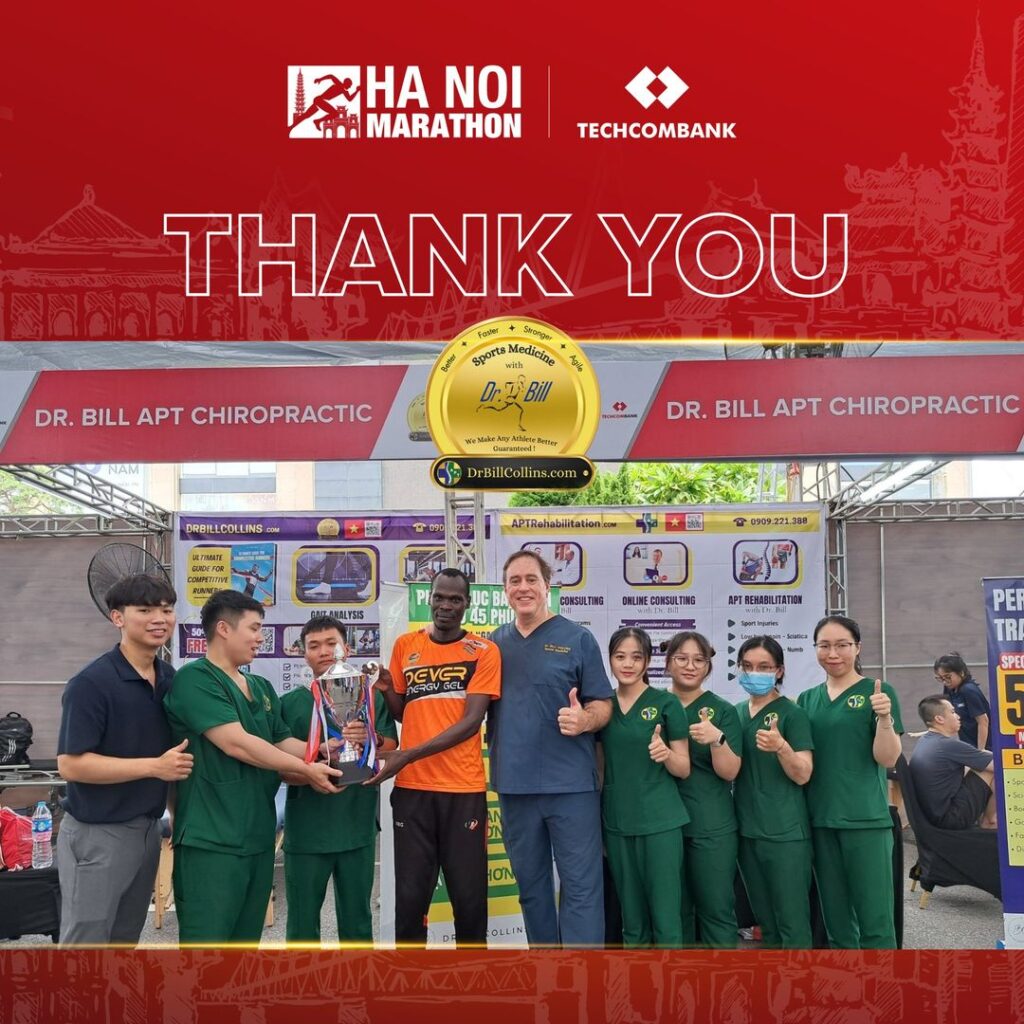 🏃‍♂ELEVATE YOUR PERFORMANCE WITH APT REHABILITATION! 🏃‍♀
Dr. Bill at APT REHABILITATION has been a competitive runner for many years and is a specialist in Sports Medicine. He has treated over 20,000 patients from around the world, including hundreds of professionals. At the 2nd Edition of the Techcombank Ha Noi Marathon, they are offering a variety of services to help you prepare and recover from the race:
– 𝐆𝐚𝐢𝐭 𝐀𝐧𝐚𝐥𝐲𝐬𝐢𝐬: We can assess your running form and identify any areas that could be improved.
– 𝐎𝐧𝐞-𝐨𝐧-𝐎𝐧𝐞 𝐂𝐨𝐧𝐬𝐮𝐥𝐭𝐚𝐭𝐢𝐨𝐧: We can work with you to create a personalized training plan and help you stay injury-free.
– 𝐅𝐫𝐞𝐞 𝐄-𝐛𝐨𝐨𝐤: Get our free e-book on Running for Beginners.
– 𝐀𝐏𝐓 𝐂𝐡𝐢𝐫𝐨𝐩𝐫𝐚𝐜𝐭𝐢𝐜 𝐓𝐡𝐞𝐫𝐚𝐩𝐲: Our APT team is there to help with any joint or muscle aches and pains after running.
– 𝐁𝟐𝐁 𝐂𝐨𝐧𝐬𝐮𝐥𝐭𝐢𝐧𝐠: We help clinics or hospitals implement or expand chiropractic and rehabilitation services and train clinical staff. We also create wellness programs for businesses and their employees.
– 𝐏𝐞𝐫𝐬𝐨𝐧𝐚𝐥 𝐓𝐫𝐚𝐢𝐧𝐢𝐧𝐠 𝐌𝐞𝐦𝐛𝐞𝐫𝐬𝐡𝐢𝐩: Expanded health and fitness benefits with a Special Event discount for this innovative membership with Dr. Bill.
If you'd like to explore Dr. Bill's views and strategies on running, you can easily access a FREE COPY of his book, "Running For Beginners," by scanning the QR Code below.
[HÌNH ẢNH MÃ QR]
If you're eager to delve into effective strategies, don't miss the chance to PRE-ORDER the book "Ultimate Guide For Competitive Runners" at an exclusive 50% discount.
Ready to unlock your full potential? Contact us now to schedule your in-person or online consultation with Dr. Bill Collins and embark on your journey to peak performance.