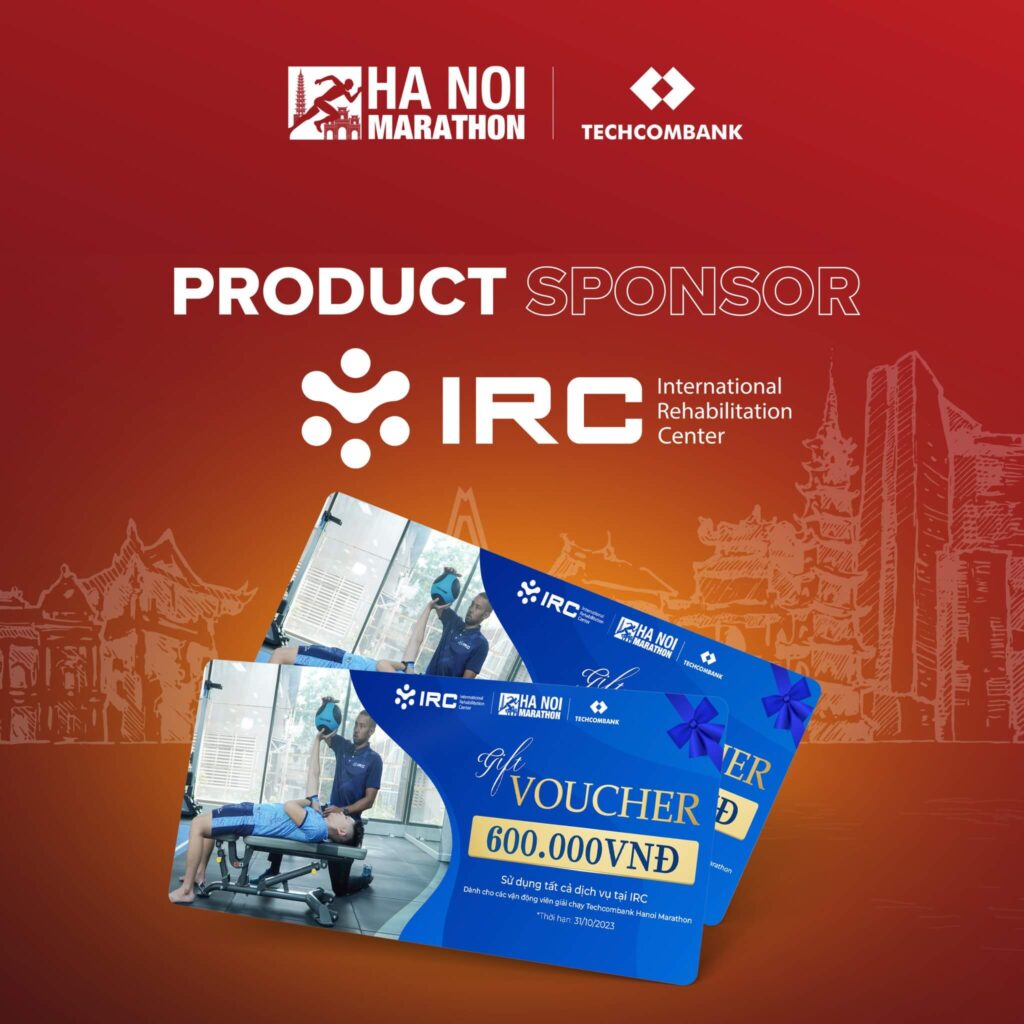 THANK YOU FOR THE COMPREHENSIVE MEDICAL SUPPORT FROM THE IRC FOR THE RUNNERS OF THE 2ND EDITION OF THE TECHCOMBANK HANOI MARATHON!
🔥 Before the event, all runners will receive an E-Voucher worth 600,000 VND, redeemable for IRC's services to help you prepare for the race. These services include medical examinations, physical therapy evaluations, rehabilitation, post-training/competition recovery, musculoskeletal screening, and performance enhancement.
These E-vouchers were included in an email titled 'INSTRUCTIONS FOR SIGNING YOUR E-WAIVER & RECEIVING THE QR CODE,' which was sent to all runners on August 31st. Be sure to open this email and save your E-voucher, as it can be redeemed for services at IRC branches in both Hanoi and Ho Chi Minh City! If you haven't received your E-voucher, please feel free to leave a comment below or send us a message.
(*) Note: 01 E-voucher is valid for 01 runner.
♻️ In the Recovery Area: After completing the race, runners can visit the IRC booth for a brief 5-7 minute assessment and recovery session guided by IRC's proficient team. In specific cases, the team will provide specialized support based on the individual's needs and furnish precise advice to aid athletes in returning to their prime condition promptly.
✨Prizes for the Award Ceremony: IRC is offering vouchers valued between VND 5 and 15 million for comprehensive physical screening and performance enhancement training services. These prizes will be awarded to the top Male and Female winners in the Marathon, Half Marathon, 10km, and 5km categories.
IRC, Vietnam's pioneering rehabilitation center applying international standards in Physiotherapy & Sports Medicine, features a top-tier team of doctors and Level 1-certified experts in Injury Prevention – Running Injuries accredited by The Running Clinic. We are proud to support this year's edition with a comprehensive system of training methods for injury recovery, injury prevention, and performance enhancement. Runners can confidently compete and reach the finish line in peak condition.
With comprehensive medical support before, during, and after the race, we hope our runners will compete with confidence, break records, and enjoy the best experience in the 2nd edition!